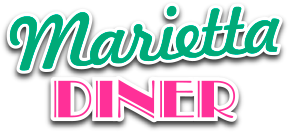 Catering from Marietta Dinner means classic dishes done right.
1995 - The Marietta Dinner has offered a 24-hour-a-day. The dinner has been a hit with people here at home and across the country, even before a feature on Food's Network's "Dinner, Drive-ins and Dives".-Each tray serves approximately 12 to 15 people.-Homemade challah bread included with each tray.
Romaine and iceberg lettuces with juicy tomatoes, pepperoncini, onions and ripe Kalamata olives, topped with creamy feta, sprinkled with oregano and dressed in our signature Greek vinaigrette.
A mix of fresh, crips lettuces tossed with garden-fresh tomatoes, onions cucumbers and carrots.
Grilled Seasonal Vegetables
$50.00
With a touch or roasted garlic, and drizzled with extra virgin olive oil. Served hot.
A colorful combination of crisp lettuce, garden-fresh vegetables, hard boiled eggs, and quality meats and cheeses.
Oven-Browned Lemon Garlic Potatoes
$35.00
This popular side dish is a tasty combination of savoury and tart.
Large mushrooms stuffed with seafood stuffing and baked golden brown.
Meaty chicken wings in a classic sauce with big flavor and a little heat.
Teriyaki Vegetables Over Rice
$60.00
Crisp fresh vegetables in a succulent teriyaki glaze.
Add Chicken      $80.00
Add Steak       $90.00
Our made-from-scratch meatballs feature the finest ground beef and select spices and herbs.
Add Meatballs      $85.00
The perfect comfort-food combination of savoury beef and tender vegetables in a hearty, herb-rich sauce.
Pot Roast With Potato Pancakes
$95.00
Like grandma used to make but easier since we do the cooking for you!
Beef Stroganoff over Noodles
$115.00
Tender pieces of beef and tasty muchrooms cooked in our sour cream sauce and served with buttery noodles.
Savory and chock-full of tender chicken and vegetables. Comfort food doesn't get any better than this.
Baked Meatloaf With Mushroom Gravy and Mashed Potatoes
$90.00
An American classic.
Homemade Beef Goulash over Noodles
$105.00
Traditional, slow-cooked, paprika-spiced stew.
Homemade Stuffed Peppers
$85.00
Fresh bell peppers filled with subtly seasoned ground beef.
Baked Beef Short Ribs With Oven-Roasted Potatoes
$125.00
The meat practically falls off the bones of these tender baked ribs.
BBQ Pork Spareribs
$105.00
Meaty pork ribs brushed with a sweet-spicy homemade BBQ sauce.
Our homemade spanakopita is a delicious mix of spinach, onions, cheeses and herbs in crispy, flaky phyllo.
Fresh, whole chickens marinated in Greek spices and baked until they are crisp outside and still moist inside.
Homemade Greek Pastitsio
$80.00
A thick, rich béchamel makes this Greek version of chopped-beef lasagna absolutely delightful. Our pastitsio is traditional with a touch of cinnamon.
Homemade Greek Moussaka (Athenian-Style)
$85.00
This is layers of fried potato, eggplant and lean ground beef with the perfect balance of spices, herbs and cream sauce.
Greek Meatballs With Lemon-Dill Sauce
$70.00
Classically seasoned meatballs in a light, dill sauce.
Chicken Scarpariello With Pasta
$85.00
Chicken "Shoemaker's style" gets its rich flavor from a combination of bell peppers, mushrooms, onions and italian sausage in a special marinara sauce.
Chicken Francaise With Pasta
$85.00
Tender chicken topped with a lemony white-wine and butter sauce.
Chicken Marsala With Pasta
$85.00
Chicken sautéed in a savoury sauce of moushrooms, herbs and Marsala wine.
"Health Nut" Chicken
$90.00
Breast of chicken sautéed with fresh spinach, artichoke hearts and mushrooms in a light, creamy scampi sauce and served over pasta.
Chicken Parmigiana And Spaghetti
$85.00
Tasty chicken is hand-breaded with Parmesan and served with mozzarella and more Parmesan in a zesty red sauce.
Chicken Rollatini With Marsala & Mushrooms
$85.00
A beautiful dish! This chicken is stuffed with garlic and ricotta, romano and mozzarella cheeses and baked in a rich Marsala wine sauce with fresh mushrooms.
Seafood New Orlands With Pasta
$135.00
A light touch of Cajun spices makes this dish of fresh, mixed seafood and al dente pasta one of our most popular.
Calamari Marinara Of Francaise With Pasta
$80.00
Our fresh calamari in your choice of homemade marinara or white-wine sauce.
Veal Cutlet Parmigiana
$115.00
Mozzarella and Parmesan cheeses top fresh, lightly breaded veal sautéed in a slow-simmered red sauce.
Traditional, slow-cooked, paprika-spiced stew.
Tender veal cutlets are braised in a rich sauce of Marsala wine, butter herbs and mushrooms.
Sausage And Peppers
$70.00
Sweet Italian sausage with colourful trio of bell peppers and mild onions.
Add Mozzarella cheese         $85.00
Penne Pasta And Broccoli Al' Anglio
$55.00
Garlic, butter fresh parsley and crisp broccoli florets give this pasta dish a light, garden-fresh flavor.
Add Chicken      $75.00
Chicken Ala Roma With Pasta
$95.00
Fresh, juicy roma tomatoes are the key to this bright, white-wine dish.
Tilapia Francaise With Broccoli
$90.00
Mild, fresh tilapia is paired with crisp broccoli in a white-wine sauce.
"Health Nut" Seafood
$125.00
Market-fresh shrimp, scallops and salmon sautñéed with spinach, artichoke hearts and mushrooms in a light scampi sauce served with pasta.
This thick, tasty dish features generous layers of pasta; homemade, subtly seasoned meat sauce; and mozzarella, ricotta and Parmesan cheeses.
Vegetarian Lasagna            $75.00
Ziti pasta baked with plenty of ricotta and mozarella cheeses in our homemade marinara sauce.
Baked Ziti With meatballs
$80.00
Our Marinara sauce, made with fresh tomatoes, onions and select spices, is perfect when baked with ziti and homemade meatballs.
Al dente penne pasta, garlic and prosciutto in a zesty tomato-cream sauce with just a touch of vodka and a sprinkle of red pepper flakes.
Penne Ala Vodka With Chicken
$85.00
Our same Penne ala Vodka with tender pieces of marinated chicken.
Pasta Primavera (Red or White)
$70.00
Fettuccine tossed with zucchini, mushrooms, broccoli, cauliflower and green peas in our rich, silky Primavera sauce (red or white)
Strawberry Cheesecake
$50.00
Juicy strawberries and Silky-smooth cheesecake are a favourite combination.