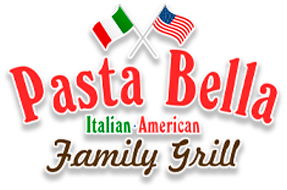 Pasta Bella Family Grill offer you delicious Italian food in combination of a peaceful traditional italian environment and decoration great to share with your family and enjoy a traditional Italian - American experience.You can delight the authentic falvors during lunch or dinner.
A mix of fresh, crisp lettuces tossed with garden-fresh tomatoes, onions, cucumbers and carrots.
A colorful combination of crisp lettuce, garden-fresh veggies, herd-boiled eggs, and quality meats and cheeses.
Romaine and iceberg lettuces with juicy tomatoes, pepperoncini, onions, and kalamata olives, ttopped with creamy feta, sprinkled with oregano and dressed in our signature Greek Vinagrette.
Tri-color Tortellini with Chicken
$85.00
Colorful, al dente pasta tossed with tender, marinated chicken.
Tri-color Tortellini in a Marinara or Alfredo Sauce
$65.00
The same pretty pasta with your choice of homemade sauce: our zesty tomato-bright marinara or creamy, rich Alfredo.
Add Chicken              $85.00
Bowtie with Salmon
$115.00
Fresh, flaky salmon gently tossed with bowtie pasta.
Large pasta shells are filled with a smooth, savory blnd of ricotta, mozarella and Parmesan cheeses and dressed with our own marinara sauce.
This thick, tasty dish features generous layers of pasta; homemade, subtly seasoned meat sauce ricotta and Parmesan cheeses.
Vegetarian Lasagna                    $75.00
Ziti Pasta baked with plenty of ricotta and mozarella cheeses in our homemade marinara sauce.
Baked Ziti with Meatballs
$80.00
Our Marinara sauce, made with fesh tomatoes, onions, and special spices, is perfect when baked with ziti and homemade meatballs.
Cheese-filled ravioli is topped with a long simmered tomato sauce and quality cheeses and baked to a lovely, golden brown.
Ricotta, Mozarella and Parmesan cheeses are baked in jumbo pasta shells and topped with our herb-rich marinara sauce.
Crisp, garden-fresh broccoli tossed with tender penne pasta in a buttery sauce.
Al dente penne pasta, garlic and prosciutto in a zesty tomato-cream sauce with just a touch of vodka and a sprinkle of red peppers flakes.
Pasta Primavera (red or white)
$70.00
Fettuccine tossed with zucchini, mushrooms, broccoli, cauliflower and green peas in our reach, silky Primavera sauce (red or white)
Ziti Pasta baked with plenty of ricotta and mozarella cheeses in our homemade marinara sauce.
Add Grilled Chicken Breast                         $85.00
Add Grilled Shrimp                                      $95.00
Calamari Marinara or Francaise
$85.00
Tender calamari cooked in our own zesty marinara sauce or in our homemade white-wine and butter sauce. The choice is yours.
Fresh, lightly fried calamari served with our homemade marinara sauce.
Veal Cutlet Parmigiana
$115.00
Mozzarella an Parmesan cheeses top fresh, lightly breaded veal sautéed in a slow simmered red sauce.
Tender veal cutlets are braised in a rich sauce of Marsala wine, butter, herbs and mushrooms.
Seafood Stephanie with Pasta
$115.00
Shrimp, scallops, salmon and mussels sautéed with colorful peppers, onions, and mushrooms in a marinara sauce and served over angel hair pasta.
Our made-from-scratch meatballs feature the finest ground beef and select spices and herbs.
Add spaghetti                               $85.00
Sausage and Peppers
$70.00
Sweet Italian sausage sautéed with a colorful trio of bell peppers and mild onions.
Add Mozzarella cheese                             $85.00
Sausage and Peppers Pizzaiola
$85.00
A hearty and delicious dish of sweet Italian sausage and crisp peppers in a sauce of tomatoes, onions, oregano, garlic, and basil.
Chicken Scarpariello with pasta
$85.00
Chicken "shoemaker's style" get's it's rich flavour from a combination of bell peppers, mushrooms, onions and Italian sausage in a special marinara sauce.
Chicken Cacciatore with pasta
$85.00
This Italian mainstay is boneless chicken simmered in a hearty tomato sauce laden with mushrooms.
Chicken Francaise with Pasta
$85.00
Tender chicken dipped in a seasoned egg batter and sautéed in a delicious white-wine and butter sauce.
Chicken Marsala with Pasta
$85.00
Chicken sautéed in a savory sauce of mushrooms, herbs and marsala wine.
"Health Nut" Chicken
$90.00
Breast of chicken sautéed with fresh spinach, artichoke hearts and mushrooms in a light, creamy scampi sauce and served over pasta.
Chicken Parmigiana Spaghetti
$85.00
Tasty chicken is hand-breaded with Parmesan and served with mozarella and more Parmesan in a zesty red sauce.
Chicken Rollatini with Marsala & Mushrooms
$95.00
A beautiful dish! This chicken is stuffed with garlic and ricotta, Romano and Mozzarella cheeses and baked in a rich Marsala wine sauce with fresh mushrooms.
This cool, refreshing Italian dessert is made in the clasic style with espresso-soaked savoiardi (ladyfinger cookies) and creamy mascarpone.