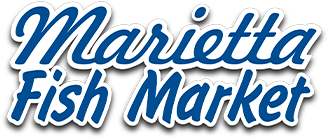 Catering from the Marietta Dinner means classic dishes done right.
Our menu of fresh fish and much more features dozens of signatures dishes from arounf the world. Marietta fish Market offers an array of exceptional, exclusive recipes that will satisfy any seafood craving. It doesn't get any fresher than this.
APPETIZERS AND SMALL PLATES
Plump, fresh shrimp perfectly boiled and served cold with our homemade cocktail sauce.
A Marietta Fish Market signature dish! Octopus is brushed with extra virgin oil, sprinkled with choice herbs and grilled until tender.
We're on very good termsn with overnight shippers so we can offer you the freshest oysters. Served ice-cold on the half shell.
Cold, fresh clams on the half shell.
Savoury and spiced just right, served with fried pita bread.
Seafood Bouillabaisse
$150.00
Shrimp, oysters, lobster tail, clams and mussels in a rich, homemade stew.
Stuffed Mushrooms with Lump Crab Meat
$100.00
Fresh mushrooms filled with handpicked crab meat.
Sweet and crunchy, served with handpicked Caribbean coleslaw and orange marmalade sauce.
Original Naw'lins BBQ Shrimp
$65.00
Served with garlic toast.
shrimp, Crab & Oyster Fondue
$65.00
Baked with white wine herbs, Cajun spices and cheese. Served with garlic toast.
Tender, spicy calamari topped with crumbled blue cheese.
Served cold with drawn butter.
Market Price
Served cold with drwan butter.
Market Price.
Village Greek Salad (No lettuce)
$60.00
This simple salad of fresh tomatoes, cucumbers, red onions, olives, and feta in a tasty vinagrette is served all over Greece.
Romaine and iceberg lettuces with juicy tomatoes, pepperoncini, onions and kalatama olives, topped with creamy feta, sprinkled with oregano and dressed in our signature Gree vinagrette.
A mix of fresh, crisp lettuces tossed with garden-fresh tomatoes, onions, cucumbers and carrots.
Classically made with romaine lettuce, crunchy croutons and plenty of Parmesan cheese.
Shrimp and Crab Meat Salad
$95.00
Sweet lump crab meat and tender, briny shrimp are a delicious combination.
Village Greek Salad, Shrimp & Crab Meat Salad, Seafood Salad.
Seafood Bisque / Maryland She Crab Soup / New England Clam Chowder / Manhattan-Style Clam Chowder (red) / Greek Lemon Shrimp / Mediterranean Seafood Chowder / Seafood Gumbo.
Quart            $6.95
Gallon         $25.95
Mixed Vegetables with Garlic and Olive Oil
$50.00
A touch of roasted garlic and extra virgin olive oil dress fresh, seasonal vegetables. Served hot.
Our fresh fish is lightly fried in high-quality oil with zero trans fat. Served with French Fries and our famous made-to-order Hush puppies.
Flounder | Alaskan Whitefish | Catfish | Baby Shrimp | Jumbo Shrimp | Clam Strips | Perch | Tilapia | Whiting | Oysters | Scallops.
We strongly recommend that fried fish be prepared on site.
Fryer Setup Fee                               $150.00
Chef Rate                                         $45.00 / Hour
Market-fresh fish-basted with extra virgin olive oil, fresh lemon juice and a touch of Greek spices-features the subtle, smoky flavour of the grill. Served with rice. Pilaf or Dirty Rice.
Tilapia | Grouper | Red Snapper | Salmon | Flounder | Shrimp | Scallops.
Whole Fish (available upon request) & Whole Lobsters
$0.00
Market Price
"LOW COUNTRY BOIL" OR "SHELLFISH FEAST"
Steamed Whole Lobster, Crab Legs, Jumbo Shrimp, Clams & Mussels
$0.00
Served with baked potato, corn on the cob and garlic butter.
Market Price
FISH MARKET SIGNATURE DISHES
Shrimp and Scallops Santorini
$135.00
Shrimp and scallops come together with a light red sauce, green olives and feta cheese in this delicious Mediterranean dish.
Shrimp and Cheese Grits
$115.00
A great Southern speciality! Succulent shrimp are served over creamy cheese grits with bacon, tomatoes and scallions in a light white-wine cream sauce.
Fresh tilapia is tossed with broccoli and cappers in a lemon-butter sauce and served with pasta or rice.
Shrimp, scallops, salmon and mussels in a pink cream clam sauce over linguine.
Baked Asiago Crusted Salmon
$135.00
Served with sautéed spinach, mixed vegetables and potato soufflé.
Shrimp and scallops sautéed in olive oil, white wine, fresh garlic and herbs. Tossed with rigatoni and melted fresh buffalo mozzarella. (Slightly spicy)
Sautéed shrimp, scallops and mussels with onions, peppers mushrooms, white wine, zucchini and squash in a spicy red sauce over capelini pasta.
Seafood Gorgonzola
$115.00
Sautééd shrimp, scallops and chicken strips in olive oil, diced onions, fresh Italian herbs, prosciutto, white wine, Alfredo Romano sauce and bleu cheese crumble tossed with penne riggate pasta.
Blackened chicken is tossed with shrimp, italian sausages and sun-dried tomatoes in a Cajun-spiced cream sauce and served over al dente pasta.
Served w/ seafood risotto & asparagus.
Seafood Bouillabaisse
$135.00
Shrimp, Scallops, Grouper, Mussels, Clams; Maine Lobster Tail (8oz), & Jumbo Lump Crab Meat in a Zesty Red Sauce served with Garlic French Bread.
Maryland Lump Crab Cakes
$165.00
You'll love the crab-to-bread ratio off these unbelievably delicious, real lump Maryland crab cakes! Made from a family recipe, these crab cakes are among our most popular dishes. Served with sautéed vegetables and dirty rice.
Shrimp with Seafood Stuffing
$90.00
Jumbo shrimp filled with savory seafood stuffing.
Stuffed Shrimp with Lump Crab Meat
$150.00
We take it up a notch by stuffing shrimp with plenty of fresh, lump crab meat.
"Health Nut" Seafood
$115.00
Market-fresh shrimp, scallops and salmon sautéed with spinach, artichoke hearts and mushrooms in a light scampi sauce with pasta.
Red Beans & Rice with Andouille Sausage
$75.00
Not just for Monday night, as the saying goes. Our version of the New Orleans favourite features smoky, authentically spiced andouille.
Shrimp Extravaganza
$150.00
Shrimp and lots of it! Fried, grilled, stuffed, as cocktail and a la Francoise with a white-wine sauce.
Baked Stuffed Crab and Shrimp
$135.00
Wrapped in bacon and served with dirty rice, grilled vegetables and a lemon-butter sauce.
Te Food Network has featured our popular seafood filled paella! It's made with warm-water lobster tail, jumbo shrimp, sea scallops and mussels as well as chicken, peas, onions, extra virgin olive oil, fresh garlic, oregano and other selected spices. Served over rice in the Spanish tradition.
This classic blend of sweet and tart is one of America's best-loved desserts; in fact it is the official state pie of Florida. Ours is made in traditional style with Key-lime juice and sweetened, condensed milk. It's sublime.